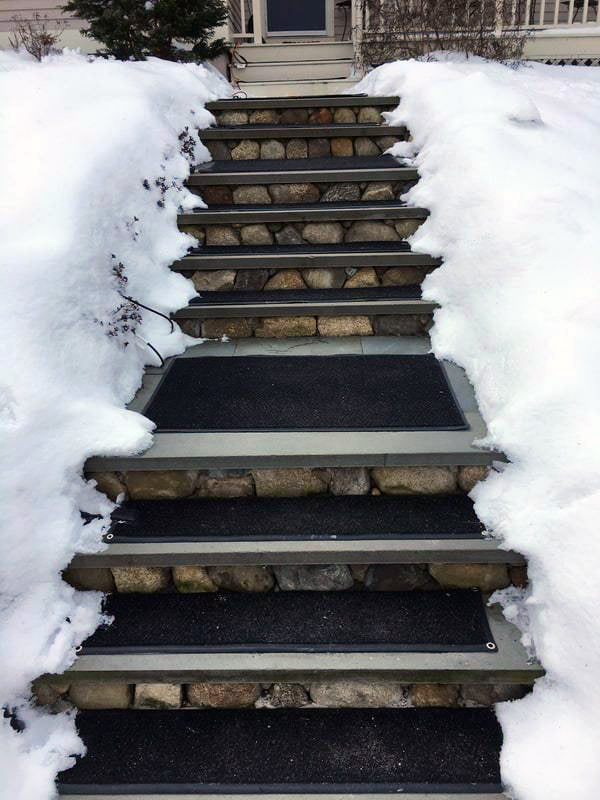 Heated Snow Melting Walkway Mat - Standard/Half - 20"x30"
SKU: HR20-30
---
Every Snow Melting System requires at least one Power Unit ($39.99 USD). Would you like to add one now? Learn more.
Every Snow Melting System requires at least one Power Unit. Would you like to add one now? Learn more.
Snow Melting Walkway Mats
Kick your shovel to the curb and put down award-winning heated sidewalk mats instead. Say goodbye to constant shoveling, harmful salts, and expensive snow removal services and say hello to easy-peasy, portable HeatTrak snow melting system. Proudly Made in North America.
PRODUCT
SPECIFICATIONS
Roll out the heated sidewalk mats for you and your guests. Get ready to kick back, relax, and let these mats take care of the snow and ice so you can enjoy a hassle-free winter. HeatTrak Snow & Ice Melting Mats are the ultimate solution for icy pathways! These portable heated sidewalk mats provide a safe and convenient way to melt snow and ice, ensuring slip-free surfaces all winter long.
Melts up to 2" of Snow Per Hour!
Edge to Edge Snow and Ice Melting Power!
Put snow removal convenience at your fingertips with a HeatTrak Snow & Ice Melting Walkway Mat. Walkway mats are reliable, durable and ready the moment the storm hits to melt 2" (5 cm) of snow per hour.
Engineered with Safety in Mind
- Anti-slip grip textured surface
- Coated black grommets to secure mat
- Watertight Cord
Connect Your Mats Together
Designed to standalone or connect to other Residential HeatTrak Walkway or Stair Mats
Up to 13 amps of mats can be connected to a Power Unit (sold separately). The Power Unit connects the mats to an outdoor 120V electrical outlet and gently warms the mats to melt the snow.
Before
After
Why HeatTrak Snow & Ice Melting Mats?
Love the mats! I'm getting older and that first snow, it was neat to just walk down the dry stairs with snow everywhere else! Installing was a breeze, it was harder to find the right size stainless steel screws and finishing washers than it was to install the mats. Just wish they made semicircular mats for my back steps, I'd buy them in a heartbeat!
These are replacement mats. I love the heat mats on my walkway. I haven't had to shovel the walkway for years.
Love HeatTrak and have been using them for years. So easy to just turn them on and off with a remote control.
Extremely happy with the product and the customer service. Haven't seen any snow as of yet but did have some ice and the mats were clear. I'll send some photos once it does snow. Customer service is great, lots of good people who are very accommodating.
I have had this mat for 1 year now and it does an amazing job. I would get a "speedbump" of ice directly in front of my door. NO MORE!!! This mat on my front deck is literally a lifesaver in the high mountains of Colorado. I highly recommend this with the remote to operate from inside.
650,000+
Snow and Ice Melting Mats Sold
200,000+
Households no longer shoveling